Each year, the Pathfinder Village Foundation organizes fundraisers in support of its scholarship program in support of individuals with Down syndrome and other disabilities. The Pathfinder Village-Baseball Hall of Fame Golf Invitational and the Pathfinder Village Tennis Tennis Classic will be held on Monday, September 11, 2023 at the beautiful lakeside settings of the Leatherstocking Golf Course and the Cooperstown Country Club.
Annually, these events raise over $60,000 to assist residents and students with tuition costs. Your support of the Golf Invitational and Tennis Classic helps individuals gain new opportunities and thrive in our welcoming, inclusive community.
One of our recent scholarship recipients, Neva, is a rising senior at Otsego Academy, our young adult transition program that offers an enriching learning environment so that students are ready for community-based jobs and living independently. Through the Academy, Neva and her peers have advanced academically, developed lifelong friendships, explored work internships, and enjoyed new experiences. Our students master time management and independent living skills; they gain confidence and are eager to take on greater challenges.
Individual potential comes to the fore when it is cultivated. Your investment in scholarships through the Golf Invitational and Tennis Classic help attract new families to the Pathfinder community and will bear dividends for years to come through individual attainment and greater independence.
Pathfinder Village-Baseball Hall of Fame Golf Invitational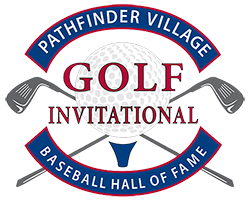 With roots going back to 1982, the Pathfinder Village-Baseball Hall of Fame Golf Invitational features teams of four amateurs playing a two-best ball round at the renowned Leatherstocking Golf Course. Hosted by the incomparable The Otesaga Resort Hotel, and with Presenting Sponsor NBT Bank, and Corporate Sponsor Coca-Cola Beverages Northeast, the tournament features challenges and camaraderie at the pristine lakeside golf course. The fun continues that evening with a lakeside reception and awards banquet at the historic hotel's Glimmerglass Dining Room. This year's dinner will include a Q&A session with one of the storied members of the Baseball Hall of Fame. The tournament is organized by a volunteer committee chaired by LGC Host Professional Tim Quirk.
The Pathfinder Village Tennis Classic
The Tennis Classic was started in 2010 to complement the Golf Invitational and features an exciting, play-filled format for up to 32 players in two flights. Each year it attracts players from throughout the country and is considered the region's preeminent charitable tennis tournament. After a great day on the lakeside Har-Tru Courts, players and guests are invited to the evening banquet for fine dining and entertainment. The tournament is organized by a volunteer committee chaired by Bob and Patricia Hanft.