Education and Enrichment Center Expansion
Pathfinder Village has completed phase two of the Pathfinder School project in time for the first day of school, September 6th. The expansion project is made possible through two anonymous gifts totaling $2.2 million.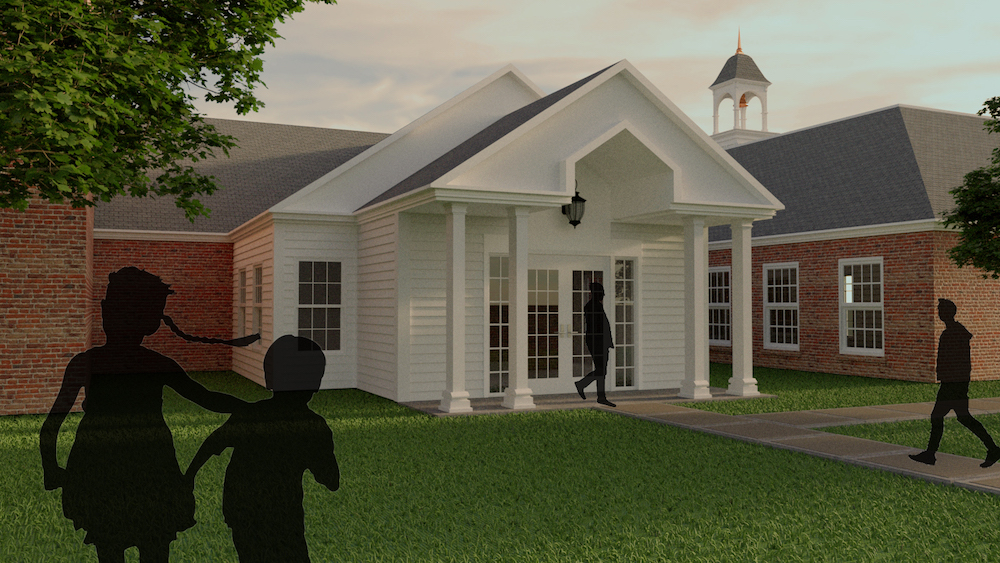 A new state of the art secure building entrance has been constructed on the east side of the building. This 700 sq. ft. vestibule will facilitate access and add additional offices for school staff. It is located directly off the school parking area and includes new doors and door hardware and meets all accessibility needs of school students, adult residents of Pathfinder Village, and the public entering our school and the Pathfinder Gym.
Initially, the expansion project was set to commence in spring 2020, with expected completion in the fall of 2020, but the pandemic delayed the project one year. Last summer, Pathfinder's maintenance crew worked tirelessly to complete the phase one renovations to the original school building before the start of the new school year. Upgrades and renovations were made to the existing classrooms and all bathrooms. The main school building now has new doors, windows, lighting, a new kitchen, and new, brighter colors and flooring throughout. The original HVAC was replaced with modern heat pump equipment and meets current air exchange standards for schools.

Phase three for the Center will include a new outdoor play area specifically designed for young children of all abilities. We expect this project to begin in spring 2023.
Pathfinder Village was approached in 2019 by an anonymous donor inquiring about expansion needs at the school. At the same time, a second donor approached Pathfinder about a planned gift to be used exclusively for educational purposes.
"After careful thought and consideration, our Board and Leadership Team thought it was a wonderful opportunity to bring these two generous gifts together to make important renovations to the school's existing structure, which will meet our current students' needs, as well as allow us to keep up with current learning trends," said Paul Landers, Pathfinder Village President and CEO."
Pathfinder School first opened in 1980 as part of Pathfinder Village's initial phase of construction. Over the years the school has become a valuable resource to the state's public-school systems. Numerous students attend Pathfinder School from area school districts that are unable to meet students' specialized needs or provide individualized supports. Students at Pathfinder School are evaluated, and specially tailored Individual Education Programs (IEP) are developed in conjunction with their home districts and Pathfinder School staff.

For more information, please contact us at:
Phone: (607) 965-8377, ext. 101
Fax: (607) 965-8655
E-mail: [email protected]