Dear Families and Friends,
After 15 years of service to this extraordinary organization, I am mindful of what a privilege it has been to serve in the role as Chief Executive Officer. I am reminded of so many moments of togetherness, from the daily walks of life at the Village to the dramatic growth and prosperity of our mission. We have accomplished much together, and the past year reflects the steady progressive growth here at the Village. As I step away from this role, I am humbled by this community and grateful for the journey, and I welcome new families interested in this fantastic place that so many call home.
With autumn here, there is much going on in and around our livable community. After an incredibly busy summer with our 25th annual Summer Concert Series, Camp Pathfinder, and our lively Baseball Experience at historic Doubleday Field in Cooperstown, we turn our attention to Pathfinder's traditional autumn events. On September 11th we welcomed golf and tennis enthusiasts to our Pathfinder Village-Baseball Hall of Fame Golf Invitational and the Pathfinder Village Tennis Classic, our scholarship fundraisers in Cooperstown. October 7 brings us Family Day, a joyous day of catching up and celebrating the best of our close-knit community. And of course, the Village will celebrate Halloween in a big way through our annual Community Trick-or-Treat event for local families. Visit our events page and social media for more information and photos of these community-spirited events.
We are also improving our Village during this busy season with the new Adaptive Playground at Pathfinder School and the new Outdoor Therapy Deck and Living Space at Chenango House. These projects serve as "bookends" to address the diverse needs of students and older residents so that they may realize the benefits of being outdoors and engage in therapeutic play and sensory exercises as part of their daily routines.
We look forward to seeing you at one of our autumn events or just any day, maybe at our bakery, produce market, community walking trails, or Village Inn. Fall offers breathtaking views here at Pathfinder!
Best Regards,



Paul C. Landers
President & Chief Executive Officer
(607) 965–8377, ext. 102
[email protected]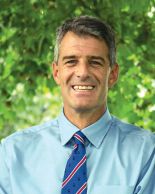 Photo Caption: Hall of Fame Member Jim Kaat, Class of '22, and President Josh Rawitch from the National Baseball Hall of Fame and Museum, and Pathfinder Village President & CEO Paul Landers are greeted by Linda M. during a tour of the Village.