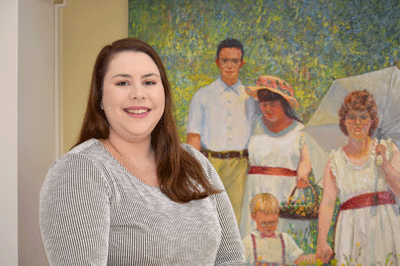 The Kennedy Willis Center on Down Syndrome proudly introduces Brittany Goodrich as our newest Director. Brittany first joined Pathfinder Village in 2014 as a Medicaid Service Coordinator. In that role she discovered her love for supporting individuals with Down syndrome in leading richer lives.
As an Affiliated Regional Trainer with National Task Group on Intellectual Disabilities and Dementia Practices (NTG), trained on CQL Personal Outcome Measures and proficient with various person-centered planning techniques, Brittany is skillful in facilitating Circle of Support meetings to identify an individual's strengths, passion and unique needs.
Furthermore, as a fierce advocate Brittany has learned how to expertly navigate the disability services field to refer and link individuals to various community resources. Her experience and leadership has helped to advance the mission and objectives of the Kennedy Willis Center to ensure that individuals with Down syndrome are fully supported throughout the lifespan. In her personal time, Brittany enjoys reading, crafting, baking and supporting local craft breweries. Brittany resides in Sherburne, NY with her husband, and sons Parker and Miles.