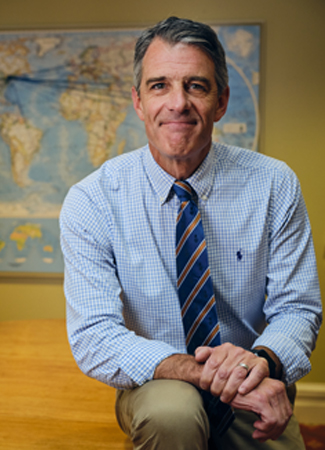 Paul C. Landers, M.Ed., serves in a dual capacity as Chief Executive Officer for The Kennedy Willis Center on Down Syndrome as well as President and CEO for Pathfinder Village. Founded in 1980, Pathfinder Village is a non-profit, residential community for individuals with Down syndrome and other intellectual and developmental disabilities (I/DD).
Paul completed his undergraduate studies in Special Education at Boston University and received his Masters in Education in Counseling and Psychology from Cambridge College. He spent several years working in direct care in residential and vocational programs for adults with I/DD
and was employed as a psychotherapist with at-risk youth. Returning to his alma mater, Paul had the opportunity to teach graduate-level courses in human services as an Adjunct Professor for the Boston University School of Social Work.
Paul served as Director of Residential and Professional Services for New England Village in Pembroke, MA., a residential community for 80 individuals with I/DD before coming to Pathfinder Village in 2001 as CEO. Paul warmly refers to this time as his "first tour" at Pathfinder. In 2003, Paul moved to Tennessee where he was the Executive Director of West Tennessee Family Solutions, a family-governed non-profit, whose mission is to support and provide opportunities for people who live with I/DD. It wasn't long before Pathfinder Village again compelled Paul to return as President and CEO. Paul's expert leadership has guided Pathfinder Village into the 21st century, offering innovative supports and services as well as a solid financial footing. More importantly, Paul's hands-on approach and relatable personality have not only garnered the respect of the workforce, but he has become a much-beloved figure among the residents that call Pathfinder Village home.
Paul currently serves on the Board of Directors for Together for Choice, a national consortium dedicated to advancing the freedom of choice people with I/DD have in choosing their own living options. He also serves on the Board of Directors of LIFEPlan CCO NY, a parent-led Care Coordination Organization with a 38-county catchment area that facilitates case management for individuals with I/DD and their families. Paul has also been involved with the Special Olympics as a volunteer for over 30 years.
Paul is married to his beautiful wife, Kathy Landers, and they now have five grandchildren living in the Memphis and Boston areas. As a native of Boston, Paul has unwavering affection for all New England sports teams. Paul enjoys an active lifestyle and participates in a variety of recreational sports including cycling, tennis, and skiing.