Fisk Tees Up for Pathfinder Village
Tuesday, September 4, 2018
(COOPERSTOWN, NY) – Carlton Fisk returned to Cooperstown this summer for the annual celebration of Hall of Fame Weekend.
But this week's return to Cooperstown for Fisk may have meant even more to the legendary Red Sox and White Sox catcher.
Fisk, who was inducted into the Hall of Fame in 2000, visited Pathfinder Village on Monday, reprising his role from 2005 as the Hall of Fame guest at the annual Otesaga Hotel Seniors Open.
"I was here back in 2005, and (it's easy to see) how much progress they've made here. It's been spectacular," Fisk said. "What's provided (for residents) at Pathfinder Village is over the top, and it doesn't get offered very much in other walks of life. It's very rewarding to come here and see this happening."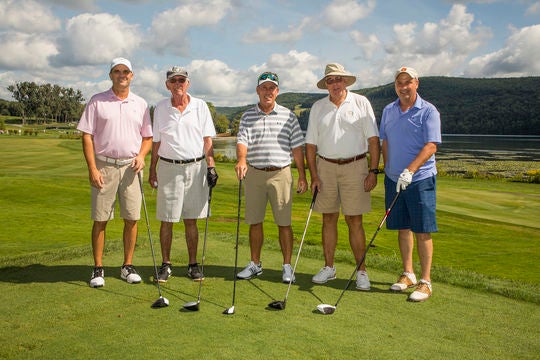 The winning team at the Otesaga Hotel Seniors Open Pro-Am on Tuesday, Sept. 4, featured Jeff Johnson, Earl Hayford, Bob Tramonti, Bob Schlather and Jeff Wait. (Milo Stewart Jr./National Baseball Hall of Fame and Museum)
Fisk hosted Tuesday's Pro-Am portion of the 36th annual Otesaga Hotel Seniors Open. Featuring more than 100 golfers, including nearly 30 pros, the event raised funds for Pathfinder Village, a residential community in nearby Edmeston, N.Y., for children and adults with Down syndrome. More than $2 million has been raised for Pathfinder Village through the years directly benefiting the 90-plus residents of the community, including $50,000 from the proceeds of Tuesday's Pro-Am. An additional sum of $10,000 was presented to the Baseball Hall of Fame for its educational mission.
On Wednesday, the three-day Seniors Open, presented by NBT Bank and one of the top senior tournaments in the Northeast, begins featuring nearly 80 pros from across the country.
At Tuesday's Pro-Am, professional Bob Tramonti led his team to a first-place victory. Additional members of the winning team included Earl Hayford, Jeff Johnson, Bob Schlather and Jeff Wait. The names of the first-place team will be engraved on the Joseph P. Franzese Memorial Trophy, named after the tournament's founder.
Competition in the Seniors Open begins Wednesday morning with 8 a.m. tee times and continues through Friday.
The Otesaga Resort Hotel is the tournament's title sponsor and has been instrumental in the tournament's success. Located on the shores of beautiful Otsego Lake in Cooperstown, the Otesaga Resort Hotel has been selected as a "Historic Hotel of America" by the National Trust for Historic Preservation.
Overlooking picturesque Otsego Lake, the Otesaga Hotel's Leatherstocking Golf Course is considered one of the East's most scenic and historic par-72 layouts. Designed by the legendary Devereux Emmet in 1909, Leatherstocking has been rated "four stars" by Golf Digest's "Places to Play."
The presenting sponsor for the 2018 tournament is NBT Bank, and the corporate sponsor is Coca-Cola Bottling of Northern New England.